Bedside Lighting Inspiration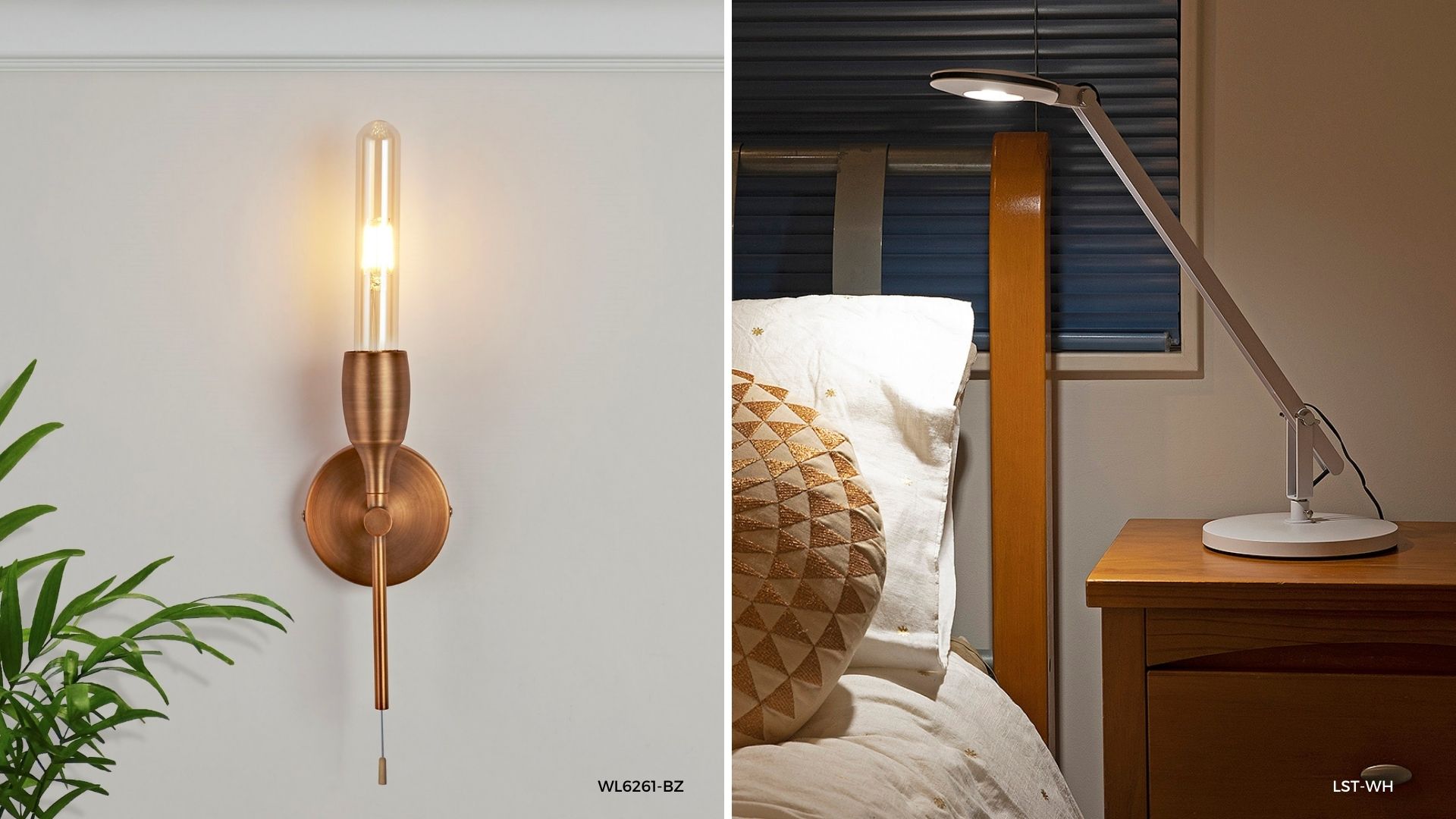 Bedrooms are no longer just a place for sleep, they have grown into a multi-use space for so many people. So whether you use it as a place to escape and relax in, or a place to read a book before bed - having the right bedside light can help make your space a functional and comforting place to enjoy.
While you don't want to feel like you're under a spotlight as you're winding down from the day, you equally don't want to cause eye strain from poor lighting while trying to complete simple tasks such as reading or watching TV.
This is why choosing the right light is so important for your space. There are two key things to consider here, before we get into the design and style of fittings.
Firstly, always pay attention to the colour temperature of your light source. The colour temperature should be around 2,500K to 3,000K - this window provides a soft, warm white output, creating a relaxing and cosy environment to unwind in. Avoid higher colour temperatures when it comes to bedside lighting, as this brighter, harsher light can effect your bodies natural circadian rhythm. The brighter light convinces your body it's daylight, so you may find it harder to fall asleep!
Secondly, have convenience at the forefront of your decision making. Having the on/off switch of your bedside light within arms reach is crucial for ease and comfort. You don't want to have to turn the light off from the other side of the room and fumble in the dark trying to get back to your bed. So look for lights that have touch switches on lamp heads, on/off switches located on the base or pull cords etc. The goal is to make your night time routine as relaxing and convenient as possible!

So, check out our guide to 3 simple styles of lighting to create a functional and comforting bedroom space.
If you want to free up space on your bedside table, then wall lights are a great alternative to table top lighting. From simple understated cube style lighting, to modern monochrome options or more traditional wall lights with shades - there's sure to be a wall lighting option that ticks the boxes for your space.

Zuri 8W Wall Lights are a great contemporary way to bring added light to your bedroom space. Zuri creates a beautiful up and down lighting effect to wash your walls with light, and is dimmable - so you can adjust the light volume based on your needs.

Two in one wall lights also make great bedside lights. Such as our Maddox range, with it's main E27 ambient light, and a LED flexible spotlight attached to the base for controlled localised lighting - each of which are individually switched.
Tired of fumbling at the edge of the bed looking for your charger cable? Why not try something like our Aura wall light, an LED spotlight with ambient backlight and a USB port for charging your phone - so handy!
Or keep things really simple with our small Abbey Wall Light or the Kiyo wall light - Kiyo has a flexy stem for direct focused lighting. And the minimalist Abbey has a convenient pull cord on the base!
Note: Placement of your wall light is important. You want to install it low enough so you get the benefit of the soft glow of light - and can reach the on/off switch if needed. But not too low it get's lost behind the bedside table or headboard. Aim for over the side of your shoulder for easy reaching - and avoid placing directly over your head, as this will likely lead to heavy shadows.

Maddox 2 in 1 Wall Light Abbey Wall Light Kiyo Wall Light Aura Wall Light & USB Port
Table top lights are an easy solution to bedside lighting, and a great way to add some design flair to a bedroom.

From classic Superlux Equipoise ™ task lights, to contemporary dimmable solutions like the Arlo range, or even something more glamourous like our floral crystal effect lamp. There are many options to style your space while also providing a functional light source for those evening routines, reading and more.

If you're looking for a lamp with flexibility in light direction, look for those that have easy move lamp heads or the ability to adjust height and arm direction, such as our Kora Table Lamp and the classic Equipoise™. Or try our Solo lamps - which are touch switch dimmable to three different light levels. Meaning you can adjust the light output of your lamp as the natural light begins to fade.
You can also experiment with bolder options in otherwise understated rooms, such as our textured glass lamps or the modern twist table lamps.
The great thing with table lamps, is they're easy! You simply plug in and away you go, no need to wait for electricians to install or mount them. And, if you decide to have a bedroom reshuffle, your table lamp can be unplugged and moved to it's next resting spot.

LED Equipoise Lamp Arlo Table Lamp Textured Glass Lamp Elegant Floral Lamp Charcoal Shade Lamp
Don't have the space for bedside tables? Or looking to try out a new lighting trend? Then why not try using simple pendants as your solution to bedside lighting!
Pendant lights hung over a bedside table are becoming more and more popular. They are a great way to add thoughtful design to a space by framing the bed and adding a focal point to the room - especially if your bed doesn't have a headboard!
Keep things simple with one of our Edison pendants or Nojord lights either side of the bedhead. Or Pendant lights such as our Guard Pendant and Maven Mini Pendant are a fun way to bring style a personality to a space without needing much room.
Not only does this design trend look good, it also has it's practical benefits too. Such as freeing up space on your bedside table, and allowing freedom with colour temperatures and bulb styles so you can achieve the look you want. Play around with the type of bulb used to create different lighting effects, think about the colour temperature of your bulb and how that effects the ambience of the room or pair with dimmer switches so you can move between brighter and softer lighting, depending on the task.

Guard Pendant Edison Pendant Clifford Pendant Maven Mini Pendant Nojord Pendant